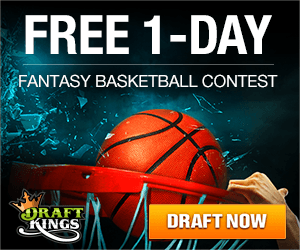 Every October through June thousands of people play Daily Fantasy Basketball. Originally Fantasy Sports were only focused on the game of baseball. As the popularity of Fantasy Baseball grew, players started to demand that other sports like Basketball become available. Today, Fantasy Basketball has a huge following.
What is Fantasy Basketball?
Fantasy Basketball is a virtual game played online through a variety of sites such as Draftkings.com. Through these online leagues which are hosted out of the United States, every player has the chance to own their own basketball team. In these games the player becomes the "owner" of a custom built dream team. As the owner of a Fantasy team you have the ability to play against other teams for fun and/or money, and it is all completely legal.
Daily Fantasy vs Regular Fantasy Play
Fantasy Basketball played Daily operates in much the same way as regular Fantasy Sports. Through a full season Fantasy Basketball platform you are drafting only one team prior to the start of the NBA season in October. You are then stuck with that team (through the good and bad) until the championships at the end of the season in June. Through Daily Fantasy Basketball you have the privilege of drafting or creating a new team every time you play.
How Do You Play Daily Fantasy Basketball?
If you want to play Fantasy Basketball you must first sign up for a host site like
Draftkings.com
. These and every other Daily Fantasy site will walk you through a team draft. The great thing about Fantasy Sports is that you are in complete control of the players you hire for your team. If you have ever dreamed about having the forward from one team and the point guard from another play together, this is your chance. Every Daily Fantasy Basketball site will have its own rules for choosing your team roster. With your chosen team you are able to enter any number or competitions or contests that will pit your dream team against someone else. Then you can finally see what would happen if LeBron James, Stephen Curry, Kobe Bryant, and Carmelo Anthony played together.
What to Do If You Drafted the Wrong Team.
Circumstances will arise where you draft what you think is the perfect team at the time, only to discover that one or more of your players is injured and will be sitting their next game out. In Daily Fantasy Basketball this is not an issue. As long as the real life player has not started their NBA game yet you can switch them out for someone else. Of course, you still have to stay in your budget when doing so.
What if I'm Not a Basketball Expert?
If all you knew about the sport was that the ball was orange, you could still play Daily Fantasy Basketball. The myriad of different online sites that host Daily Fantasy Basketball will provide you with tips and useful tools to assist in your team building. Of course there will always be an amount of trial and error. Even for so-called experts, things do not always go as planned. Whether you consider yourself to be an expert or are completely new to the sport you will have great fun playing Daily Fantasy Basketball.
What About Playing the Match-Ups?
The only match-ups you need to think about when playing Daily Fantasy Basketball is whether or not you have filled all of the spots on your roster correctly. Luckily, the systems are fool proof and will not allow you to draft an entire team of point guards. Daily Fantasy Basketball gives you the freedom to worry less about how the New York Knicks might fair against the Miami Heat. If one day your players do not perform the way you want them to, you always have tomorrow to change your team.
What if I Draft the Same Team as Another Owner?
We cannot say that it will never happen, but you don't need to be concerned about it. Maybe there will be someone out there that builds the same genius team as you did. Your team being identical or not has no bearing on the scoring of the competitions you enter. The algorithms used to run the scoring systems on Daily Fantasy Basketball sites are very intricate. Add that to the complex build of the competitions themselves and you have no reason to worry.
Which is Better: Daily Fantasy Basketball or Full Season Fantasy Basketball?
This really comes down to a matter of preference. Full season Fantasy Basketball is a season-long commitment to the players you have drafted. This means you will have to ride through the winning and losing streaks of the players, as well as the many injuries. Daily Fantasy Basketball does not hold you to the same set of strict standards. The most exciting facets of Daily Fantasy Basketball are the fast paced play and very quick payouts when your team wins.
Are There Different Types of Daily Fantasy Basketball Competitions?
If you join a league like those offered from
Draftkings.com
, there will be many different options as to how your team competes against other owner's teams.
• H2H Competitions
Head to Head Competitions are the most common contest available for Daily Fantasy Basketball. In these contests your drafted team will play head to head against one other drafted team. The winner of this contest is the person who receives the prize. In this situation the odds are relatively favorable as you have a 50% chance of winning your head to head competition.
• Beginner Competitions
Beginner Competitions work in a similar way to 50/50 Competitions. In these contests you are entering your team into a group pool of other teams. The goal in this scenario is to have your team place above a certain cutoff point. This could be placing in the top 6, 9, or 12 teams. It all will depend upon how the contest was built.
• Bracket Competitions
Through a Bracket Competition you will enter your drafted team into a tournament-like arena. This operates very similar to the NCAA or NBA championship brackets. In one day your team will move it's way through the bracket, hopefully to become the champion of them all.
Can I Win Cash in Daily Fantasy Basketball?
When you join a Daily Fantasy Basketball league you will have the choice to
play for cash
, various prizes, or no prizes at all. The leagues or contests without prizes are free to enter. Many of the host sites available offer contests that are played for cash. Even though large cash prizes can be won, this is completely legal and lawfully not considered gambling.
If I Win, When Will I Get Paid?
The beauty and appeal of Daily Fantasy Basketball is that as soon as your team wins the contest it entered you are paid. There is no latency between the end of the contest and receipt of payment. As Daily Fantasy Basketball games are played in such a rapid manor the cash flow is pretty constant. If you have ever participated in a season-long Fantasy Basketball league you know that you do not get paid until the very end of the season. Many people prefer the opportunity to win money as many as times as possible over seven months rather than having to wait the entire seven months for one payout.
Is Daily Fantasy Basketball a Game of Chance?
Unlike actual gambling, Daily Fantasy Basketball is not a pure game of chance. It takes skill, strategy, and finesse to chose the right competitions and win in Daily Fantasy Basketball. Yes, there will always be some luck involved. On the whole though, you have a greater amount of control as to how your drafted team preforms and the choices you make when playing.
What if I Want to Beat the Odds?
If you want to beat the odds in Daily Fantasy Basketball you need to learn about the point spread for that days games. If a team is expected to crush their opponent, it will be tempting to draft some of their players for your team. You have to remember that your scoring system and theirs operate differently. In real life when a team is winning by a large enough gap, the coach will sit their starting players for the last quarter. Dwayne Wade might have given you good points in the first three quarters, but if he rides the bench the last quarter of the game that will drastically affect your own teams points. Another way to beat the odds is to watch for games that have a very high over/under ratio. These are games where both teams are expected to score major points (think triple digits). The more points the real player scores, the more points they will score for you too.
Do I Have to Spend All of My Money on Daily Fantasy Basketball?
As stated, Daily Fantasy Basketball can be played without involving any money whatsoever. However, if you do choose to play for money your input is far less than your possible gain. There are many leagues and contests where it is possible to spend as little as $25 and then have a great chance of winning a couple hundred dollars. There are even tournament level contests that allow you to pay in the bare minimum and possibly win a million dollars.
What Affect does Daily Fantasy Basketball have on the NBA?
The increase in popularity of Daily Fantasy Basketball has had a very positive impact on the National Basketball Association. When players at home have the opportunity to win such large cash prizes, they are that much more likely to watch and attend the actual NBA games. This has led to an increase in revenues for the teams and arenas. We have also seen a boost in merchandising sales. Mostly though, the increase in televised games being watched has led to additional funds from sponsors and advertisers who are wanting to reach the at home viewers. Another aspect to consider is that your personal drafted team will include players from all around the league. Therefore your interest in basketball is broadened from that of only rooting for your home team.
Is it Really That Easy?
If you would like to start playing Daily Fantasy Basketball there are 5 basic steps.
In this step you will join an online Daily Fantasy Basketball site and
create an account
. This is a simple procedure that takes only minutes to accomplish. If you are going to enter into a cash game, this is also the time where you will add funds to your online account.
• Step 2: Choose a Competition
The online Daily Fantasy Basketball site you join will have a list of all available competitions for the sport of Basketball. They will explain the odds, payouts, and number of other participants.
• Step 3: Build your own Dream Team
Using an easy to understand platform, your host site will direct you through drafting your team. They will make it as easy as possible to understand your budget and the salaries of each player you hire.
• Step 4: Watch some Basketball
The hard work is done at this point. Now you will sit back and watch your selected players perform in their real life games.
• Step 5: Cash in
And who wouldn't love this step? After the real time games have concluded the scores will be calculated for your entered contest. As soon as the winner or winners are determined you get paid. Now you are ready to draft a new team and enter a new competition for the next day's play.
Playing Daily Fantasy Basketball Online, Where Do I Start?
As Daily Fantasy Basketball has become so popular, there are many sites available to choose from. Every host site will have different rules and options to choose from. One of the sites that have truly forged ahead in Daily Fantasy Basketball is
DraftKings
. It will be a good place to begin your Daily Fantasy Basketball journey. This site will offer plenty of help and support to you as the team owner. All you need to do is
follow the steps
, and have a fun and lucrative NBA season!